Sushi lunch catering for the symposium "High Level Conversation with First Ladies and World Leaders on Ocean Conservation" held at the Asia Society during United Nations General Assembly in New York City in 2019.
 The symposium was coordinated by the Japanese branch of Sailors for Sea, a non-profit organization for ocean conservation founded by David Rockefeller, JR. of the Rockefeller Foundation.  
 Hosted by then Japanese first lady Mrs.Akie Abe, the symposium was attended by spouses of world leaders and leaders of international organizations and members who support the Sustainable Development Goal of the United Nation, "Conserve and sustainably use the oceans, seas, and marine resources." 
 The symposium was opened by a welcome address from the CEO of the Asia Society, Josette Sheeran、followed by opening remarks from David Rockefeller, JR. and a key note speech from Mrs. Abe.
The panel discussion was moderated by Ms. Minako Iue, founder and president of Sailors for the Sea Japan, with panelists including board of OCEAN, Ms. Susan Rockefeller and former Palau's Ambassador to the EU and Permanent Representative of the Republic of Palau to the United Nations, Ms. Olai Uludong.
Students from Keio NY High School and Harvard University were also present with some visions for the future. 
 The lunch was planned in keeping with the theme "Sustainable Seafood ".  The fish was selected from "Blue Seafood Guide" which lists earth friendly seafood. 
To entertain guests from around the world I bought many Japanese traditional crafts to the venue. And flags of different countries were used to decorate the dishes to raise awareness of the global aquatic resources. 
 There was much friendly discussion and exchange in a relaxed atmosphere.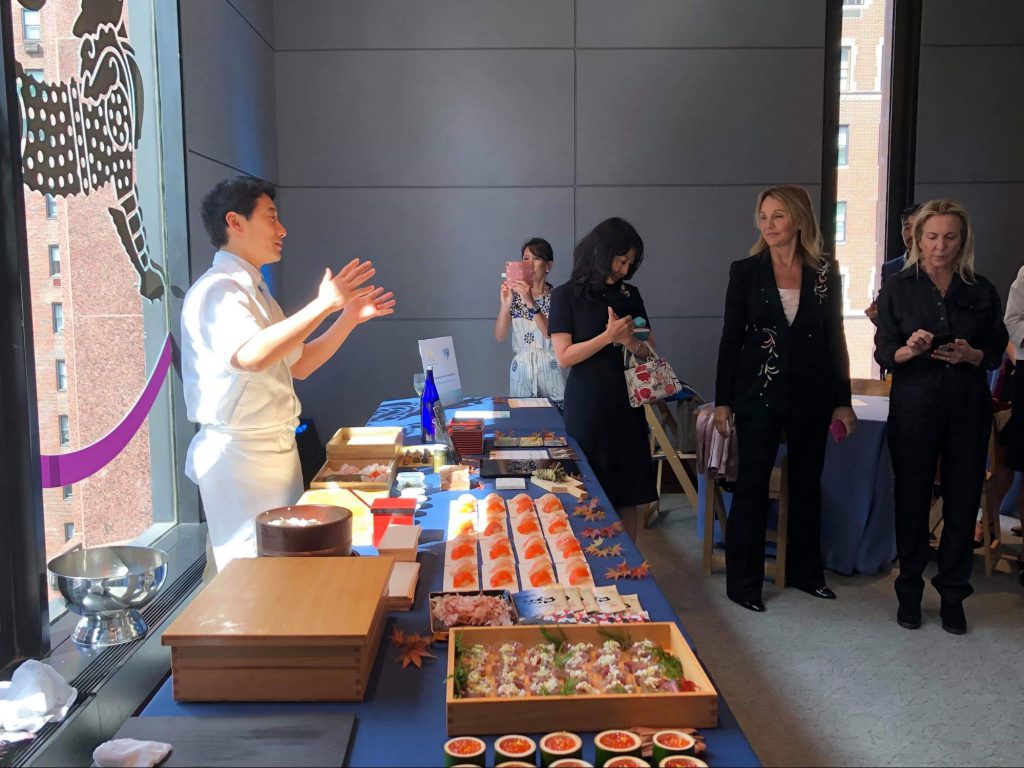 I would like to thank Mrs. Akie Abe, all the spouses of world leaders and leaders of International organizations who participated, and the organizers for this opportunity.
 Matsunozushi is an authorized Blue Seafood Partner, a restaurant that actively promotes aquatic conservation and offers menus from the Blue Seafood Guide.
 My mission is to promote Japanese culture and hospitality through sushi while supporting the United Nation's sustainable development goal, conserve and sustainably use the oceans, seas, and marine resources. 
 Please feel free to contact me if there is an occasion I can help you with. I offer small intimate catering or sushi experiences to large cooperate or state events.
 

■Asia Society

Asia Society is a nonpartisan, nonprofit organization dedicated to promote mutual understanding and collaboration to create a shared future among Asia and the United States in a global context. Founded in 1956 by John D. Rockefeller 3rd.